2 Broke Girls - S02E02 - And the Pearl Necklace
Pois bem e o que dizer deste 2º episódio? Pessoalmente, achei muito bom! Teve diversas histórias interessantes, algumas delas que se interligaram de forma perfeita. E mais, ficámos também a saber sobre qual poderá ser o desenrolar futuro desta segunda temporada.
Comecemos pelo futuro da lanchonete. Han está inventando uma vez mais. Desta vez o negócio é o seguinte – modernizar e implementar tecnologia mais avançada no espaço de trabalho. Como seria de esperar ninguém concordou com o coitado. Max, fazendo uso da sua negatividade habitual, disse que só trabalhava ali porque não era preciso ter habilitações, nem aprender nada. Quanto a Earl, ficámos a saber que vai "sacaneando" um dinheiro aos clientes que por lá passam. Dinheiro esse que serve para as gorjetas de Caroline e Max. Foi muito engraçado ver Earl admitindo, com toda a naturalidade, que "desviava fundos" dos clientes.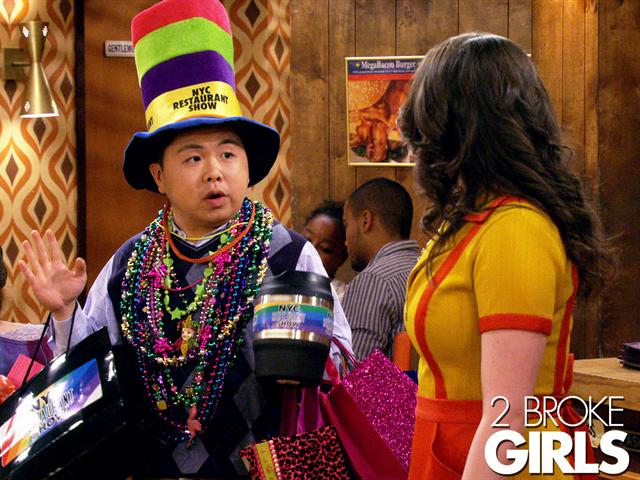 Outra história muito engraçada deste episódio foi a continuação das desventuras amorosas de Oleg e Sophie. Oleg quer a todo o custo conquistar o coração da imponente Sophie. Desta vez ofereceu-lhe um cabaz de acessórios sexuais, embrulhados com papel a condizer. O problema foi que o "cabaz" também trazia no seu interior o objeto clássico do comprometimento entre duas pessoas – a escova de dentes! Depois foi a risada total. Sophie não aguentou e rebentou a cinta de tanto rir; Oleg por sua vez estava muito cômico naquele papel de homem sensível. Ele quer exclusividade naquela relação. Prova disso é nunca mais ter mostrado os genitais a Max ou Caroline.
Passemos agora à história principal. Martha Stewart está de volta! Sim, Martha Stewart…ou pelo menos o nome desta. Para quem não se lembra, na primeira temporada, esta senhora tão famosa nos Estados Unidos, e não só, fez uma aparição especial na série. Nesse episódio provou um cupcake, das nossas garotas, de bacon e cerveja e prometeu entrar em contato com estas visto que tinha ficado impressionada com o empreendedorismo das mesmas. Gostei dos flashback que acompanharam este episódio, com as referencias ao episódio descrito anteriormente. Foi algo diferente em 2 Broke Girls, mas que não comprometeu e até inovou de uma forma bastante positiva. Continuando! A ansiedade de Max e Caroline para saber a resposta desta guru americana está em alta. Ver Max assim tão desmotivada, frágil e sem confiança dá até graça. Caroline não poupa esforços para animar a amiga, mas é aí, ou mais precisamente, quando Caroline fica sem as suas pérolas, que os papeis se invertem. Pelo que parece todo o positivismo e força de Caroline está contido num colar de pérolas que leva ao pescoço. A questão é – e se o colar se desfizer? Foi mesmo isso que aconteceu. Ver Caroline a meter as mãos na massa (literalmente na massa dos cupcakes) à procura das pérolas, foi hilário. Mais hilário foi quando o Chestunt (o meu Chestnut) apareceu para tomar o pequeno almoço e atacou a massa dos cupcakes. E quando não poderia existir mais azar, Caroline afunda a mesma massa em sua cara e cabelo Chanel.
Azares à parte, as duas lá decidiram tentar outra vez a sua sorte e apresentar/recordar os cupcakes a Martha Stweart.
Como se pode supor a tarefa não foi fácil e estas duas são especialistas a arranjar encrenca por onde passem. Desta vez foi com a senhora da recepção - uma figura irritante que teimava em repetir tudo o que as jovens diziam. Contudo, depois de conseguirem, finalmente, convencer a senhora a pô-las em contato com Martha Stewart acontece o absurdo - dão-lhe a provar um cupcake mas este traz uma pérola que lhe parte o aparelho.
Conclusão - não foram apresentados os cupcakes e Max quase acabou atropelada, mais tarde, por um automóvel.
De volta à realidade, Han continua empenhado em trazer a tecnologia à lanchonete, mas sem sucesso, deixando esta às escuras. Depois disto acontece um dos momentos mais fofos do episódio - Earl distribui o dinheiro que conseguiu arrecadar pelas duas ,e, às escuras, Max oferece-lhe um presente. As pérolas que conseguiu recolher (e que o Chestnut não comeu). Elas têm mesmo uma relação de cumplicidade e amizade. Acima de tudo complementam-se e dão uma nova dimensão à história que vai para além da comédia, e que ascende a valores mais diversos, como a importância da amizade, da resistência e de empreendedorismo.
No final Martha Stewart envia sms a Max e Caroline a dizer que ainda não esqueceu o prometido, o que deixa ambas bastante entusiasmadas. Esta é provavelmente a história que vai marcar a temporada. Só falta saber quando Martha, efetivamente, irá aparecer.
P.S 2 - Como não achar do mais amoroso que existe a cena de ciúmes de Sophie. Esta senhora com ciúmes é brava a triplicar.
P.S- Adorei a parte em que Max refere que o Twitter é para idiotas e o Instagram para idiotas que não sabem ler. 2 Broke Girls a somar pontos pela actualidade imprimida e pela irreverência em causa.
Por Ana Sustelo